Frost happy with spring progress
Here is a full rundown of what head coach Scott Frost and several players had to say following Nebraska's annual Red-White Spring Game on Saturday afternoon…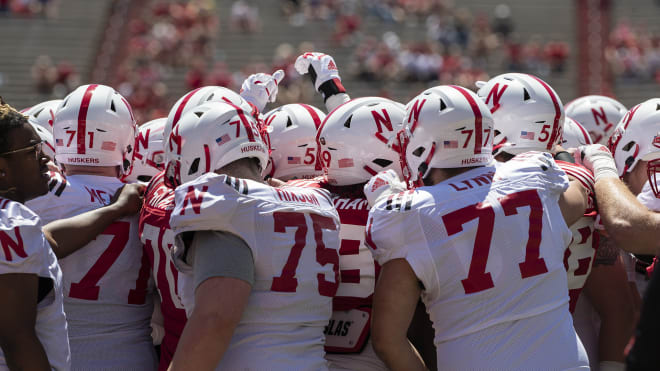 Head coach Scott Frost
***Frost said the biggest goals for the spring game were to stay healthy and "see guys perform" on a bigger stage than a standard practice.
***Frost said Henrich Haarberg and Logan Smothers both had good springs, and neither was ahead of the other at this point.
***Frost said evaluating the first half was difficult with the "thud" tackling.
***Frost said the staff would value the entire spring far more than what happened on Saturday. He said the Spring Game was just one part of the bigger picture this offseason.
***Frost said the running backs were a bright spot today, especially in the second half with live tackling. He said Jaquez Yant was a "physical presence" who showed what he could bring to the table on Saturday.
***Frost said Sevion Morrison and Gabe Ervin both dealt with rolled ankles this spring, but it was good to see them both out there in the Spring Game.
***Frost said the defense did a good job of increasing the number of takeaways this spring, but he still wanted to see more going forward.
***Frost said Omar Manning could be a great weapon as long as he can continue to do what he needs to do on and off the field.
***Frost said Adrian Martinez "has a chance to accomplish whatever he wants" if he keeps performing at the level he did this spring. Frost said it was all about eliminating the 3-4 big mistakes he'd seemed to make every game the last couple of years.
***Frost said, "It doesn't look good for Will right now" when asked about the injury status of Will Honas. He said it was a non-contact injury, and "it doesn't look like he's going to be ready to start the season."
***Frost said Haarberg "has a huge arm" and was intelligent and a great athlete, while Smothers was also "really smart" who had a firm grasp of the offense.
***Asked again if they planned to add another quarterback from the transfer portal, Frost said: "Right now, our plan isn't to go after a quarterback, no."
Cornerback Cam Taylor-Britt
***Taylor-Britt said the defense's performance in the first half was a lot like how things had gone all spring, as the defense tries to make life as hard as possible for the offense every day.
***Taylor-Britt said the offense's running game was "a lot better" than last season and was much more physical and "downhill" this year.
***Taylor-Britt having fans in the stands again was an amazing experience, especially after missing out on that all last season. He said it gave everyone a boost of energy in the game.
***Taylor-Britt said the wide receiver depth was the best it's been since he'd been here, and speed was probably the most significant difference from years past.
Quarterback Adrian Martinez
***Martinez said the stands didn't feel half-full to him, as the energy was great from the start.
***Martinez said he wanted to improve his consistency, leadership, accuracy, and ball security this spring and thought he did a good job in all of those areas.
***Martinez said he and Samori Toure had developed great chemistry, and part of that was due to the quarterbacks and receivers trying to create a better bond on and off the field this offseason.
***Martinez said Manning had barely scratched the surface of his potential and was hopeful Manning would be a big factor this season.
***Martinez said working with as many as seven different running backs has created a challenge in perfecting hand-off exchanges and things like that, but he's confident in all of those backs when they're on the field.
***Martinez said the defense had elevated the offense all spring by making them have to play at their best on every rep.
***Martinez said Haarberg was handling learning the offense as a young QB, and Smothers was a really smart player who knew the offense.
Wide receiver Wyatt Liewer
***Liewer said most of the guys were OK with playing the final untimed down that ended up being his game-winning touchdown.
***Liewer said Haarberg had "a cannon" for an arm and had made plays as he did at the end of the game all spring.
***Liewer said the receiver room was "really competitive," with many guys fighting for snaps. "We'll be a really deep group this season."
***Liewer said it was tough going up against NU's veteran secondary, but it made the receivers better every day. He said that makes it feel even better when they win a few battles vs. the DBs.
***Liewer said Haarberg and Smothers had "taken that next step" this spring and had "come a long way" over the past couple of months.
Defensive lineman Ty Robinson
***Robinson said he felt the defensive line showed just how far they'd come on Saturday, as their play – especially in the first half – was how they'd been playing all spring.
***Robinson said he felt "more smooth" and "fluid" on the field with more strength and speed.
***Robinson said Will Honas' injury "sucks" because Honas had put in so much work to make the most of his extra year.
***Robinson said he also noticed the offense having a more downhill running game with the physicality of both the offensive line and running backs. He made sure to give a shoutout Yant for how hard he ran on Saturday.
***Robinson said the daily battles with the offensive line "go back and forth" and "a grind" because of how much better the offensive line was.